Heart Health in High-Definition
Echocardiograms, often referred to as "echo" tests, are a key diagnostic tool in terms of cardiology.
They can assess the structure and function of the heart, aiding in the diagnosis and management of a wide range of cardiac conditions.
This non-invasive and safe imaging technique utilizes sound waves to provide detailed, real-time images of the heart, allowing healthcare professionals to gain valuable information about the health of this vital organ.
Test : Echocardiograms
Early Detection Of : Heart Disease, Cardiomyopathy, Infective Endocarditis, Pericardial Disease, Valve Disease, Heart Tumors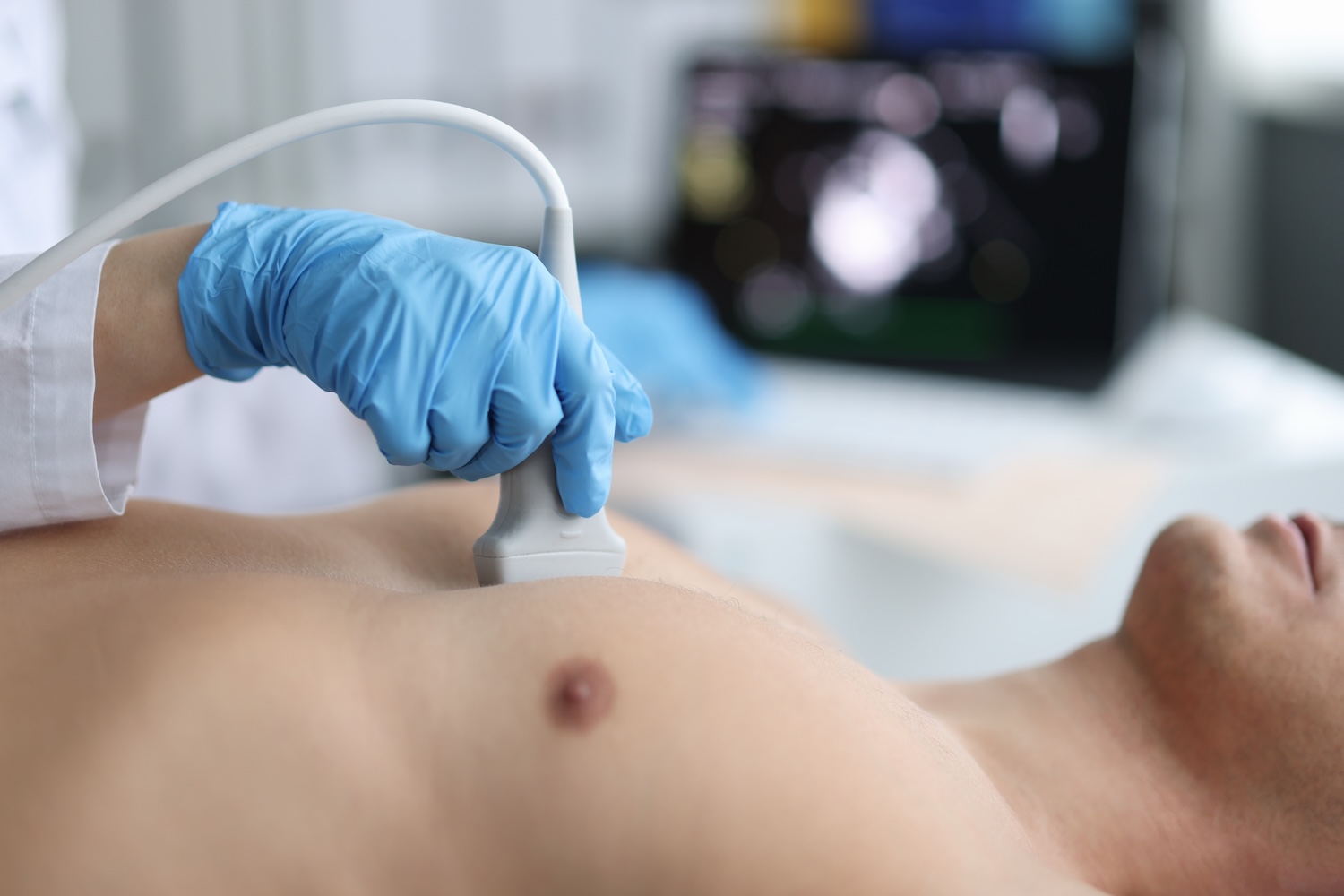 An echocardiogram is a type of ultrasound test that checks the structure and function of your heart.
It is a graphic outline of your heart's movement.
During the exam, high-frequency sound waves from a hand-held wand placed on your chest are used to take pictures of your heart.. It shows the flow of blood through the heart's valves and chambers. This helps your healthcare provider evaluate the pumping action of your heart.
An echocardiogram does not use any radiation. This is how it differentiates itself from other tests like X-rays and CT scans that use small amounts of radiation.
Early Detection of Heart Diseases
An echocardiogram can show changes in your heart that could indicate an aortic aneurysm, blood clots, and a cardiac tumor. It can also detect many different types of heart diseases.
Cardiomyopathy affects your heart muscle. Your heart cannot efficiently pump blood to the rest of your body. If detected, treatment can slow the progression and improve your quality of life.
This is an infection in your heart's chambers or valves. Early detection is key because with quick, aggressive treatment, many people survive, but without it, the infection can be fatal.
This affects the two-layered sac that covers the outer surface of your heart. Pericardial conditions need to be detected in order for it to function properly and shield the heart from infection or malignancy.
Valve disease affects the "doors" that connect the chambers of your heart. Once detected, medicines can help keep the blood flowing in one direction through your heart.
Benefits of an Echocardiogram
Echocardiograms are a valuable tool in the field of cardiology for diagnosing and assessing various heart conditions. They are safe, non-invasive, and provide detailed information about the structure and function of the heart.
Diagnosis of Heart Conditions
Echocardiograms help diagnose a wide range of heart conditions, including heart valve disorders, congenital heart defects, heart muscle diseases, and problems with the heart's structure.
Evaluation of Heart Function
An echocardiogram provides detailed information about how the heart is functioning. It can assess the heart's ability to pump blood, the strength of the heart muscle, and the efficiency of blood flow.
Detection of Abnormalities
Echocardiograms can detect abnormalities in the heart's size, shape, and structure, which can be indicative of conditions such as cardiomyopathy, heart tumors, or congenital heart defects.
Don't become a statistic.
Invest now in your future health and be fit for the long term.
How an Echocardiogram Works
The most common type of echocardiogram is a transthoracic echocardiogram. It is performed outside of your body. Using a hand-held wand, electrodes are placed on your chest to create pictures of your heart.
Step 1: Preparation
You will be asked to remove your clothing from the waist up. You will be given a hospital gown to put on. You will lie down on an exam table, where your sonographer will ask you to lie on your left side if possible.
Step 2: Placing Electrodes on Your Chest
The sonographer will place several electrodes on your chest. These are small, flat, sticky patches. The electrodes are attached to an electrocardiograph (EKG) monitor. The EKG records your heart's electrical activity during the test.
Step 3: Sound-Wave Wand
Next, your sonographer will place a sound-wave transducer (wand) on several areas of your chest. There will be a small amount of gel on the end of the wand, which will not harm your skin. The gel helps produce clearer pictures.
You may hear swishing sounds throughout the test. This is normal - it means you are hearing blood flowing through your heart as the wand picks up sound. Your sonographer may also ask you to hold your breath for several seconds at a time, or ask you to move into a different position.
Reasons to Get an Echocardiogram
Monitor Symptoms
Your healthcare provider may ask you to get an echocardiogram if you have symptoms, and they want to learn more – either by diagnosing a problem, or ruling out possible causes.
Check For Heart Disease
If you or your healthcare provider believe you may have some form of heart disease, they will strongly recommend you to get an echocardiogram. It will diagnose the specific heart problem and allow you to learn more about the issue.
Examine Pre-Existing Conditions
Your healthcare provider may also request an echocardiogram if they want to check on a condition you have already been diagnosed with. For instance, people with valve disease need echo tests on a regular basis.
InvestMed offers thorough health packages designed to meet the individual needs of our patients.
You can choose between a risk-specific package or a comprehensive package to analyze your health and wellbeing. Each package includes a comprehensive 1 hour physical exam and 1 hour review of results with recommendations to achieve optimal health.
Package costs will vary based on individual diagnostic test recommendations. Financing options are available.
Risk-Specific Screening Packages
Mitigate your cancer risk with preventive screening.
Package starting at $3,999*
MRI
DNA testing – 84 genes for cancer
Mole mapping
Advanced blood work
CT scan
Virtual colonoscopy
Proactive testing can detect changes in your body that could become cancer.
*Package cost will vary based on individual diagnostic test recommendations. Financing options are available.
Knowing your risk for stroke can save your life.
MRA – Magnetic resonance angiography
DNA testing – 83 genes for heart conditions
Advanced blood work
Carotid doppler ultrasound
Echocardiogram
Detect your risk of stroke early, even before symptoms present themselves.
*Package cost will vary based on individual diagnostic test recommendations. Financing options are available.
Heart Disease Screening Package
Early screenings are essential for heart disease prevention.
Package starting at $3,999*
Coronary calcium score
DNA testing – 83 genes for heart conditions
Advanced blood work
Exercise stress test
Echocardiogram
CT coronary angiography
Screening for cardiovascular risk factors before you develop heart disease, can help you prevent it.
*Package cost will vary based on individual diagnostic test recommendations. Financing options are available.
Comprehensive Screening Packages
Comprehensive Screening Package
Get the right screening tests at the right time.
Packages from $5,999 - $11,999*
Whole body MRI
Coronary calcium score
DEXA scans
Microbiome gut testing
Genetic testing+
Heart health workup
Cancer risk review
Mole mapping
Screen for all material risks
Prevention is key to longevity, whether or not you are presenting symptoms or risk factors.
*Package cost will vary based on individual diagnostic test recommendations. Financing options are available.
Please contact us for a custom corporate package. Specialized corporate rates available.
Comprehensive, proactive health plans
Customized screening tests
Extensive medical risk assessments
Preventive approach to healthcare
Proactively manage executive wellness.
How long does an echocardiogram take?
An echocardiogram typically takes 40 to 60 minutes in total.
How should I prepare for an echocardiogram?
In order to prepare for an echocardiogram, you should complete the following:
Take your medications as you normally do.
Wear anything you'd like, as your healthcare provider will ask you to remove your clothing from the waist up.
Avoid eating or drinking right before the appointment.
What are the risks involved with an echocardiogram?
An echocardiogram uses harmless sound waves, which have no known risks to the body. There is no X-ray exposure. You may feel some discomfort when the ultrasound wand pushes against your chest. The firmness is needed to capture the best pictures of your heart.
What techniques are used in echocardiography?
There are several different techniques that could be used to generate pictures of your heart. The best technique depends on your specific condition and what your healthcare provider needs to check for.
These techniques include the following:
Two-dimensional (2D) ultrasound: This is the most commonly used technique. It produces 2D images that appear as "slices" on the computer screen. Traditionally, these slices could be "stacked" to build a 3D structure.
Three-dimensional (3D) ultrasound: Advances in technology have made 3D imaging more efficient and useful. This technique shows different aspects of your heart, such as how well it pumps, with much greater accuracy. Using this technique also allows your healthcare provider to see parts of your heart from different angles.
Doppler ultrasound: This technique allows you to see how fast your blood flows, and in which direction.
Strain imaging: This technique shows changes in how your heart muscle moves. It can catch early signs of certain heart diseases.
What is the difference between an echocardiogram and an EKG?
While an echocardiogram and an EKG both check your heart, they check for different things and produce different types of visuals.
An echocardiogram checks the overall structure and function of your heart, and produces moving images of your heart. On the other hand, an EKG checks your heart's electrical activity. Instead of pictures, it produces a graph. The lines on this graph reflect your heart rate and rhythm.
What should you not do before an echocardiogram?
You should avoid the following:
Eating or drinking.
Smoking or using any nicotine products.
Drinking coffee or anything that contains caffeine. This includes over-the-counter medications that contain caffeine, as well as decaf drinks, since they still contain a small amount of caffeine.