Elevate Your Heart Health
Exercise stress tests have become a cornerstone in the prevention, diagnosis, and management of heart-related ailments.
An exercise stress test helps determine how well your heart responds during times when it is working its hardest. It typically involves walking on a treadmill or pedaling on a stationary bike while hooked up to an EKG to monitor your heart's activity.
Test : Exercise Stress Test
Early Detection Of : Coronary Artery Disease, Heart Disease, Arrhythmias, Heart Attack Risk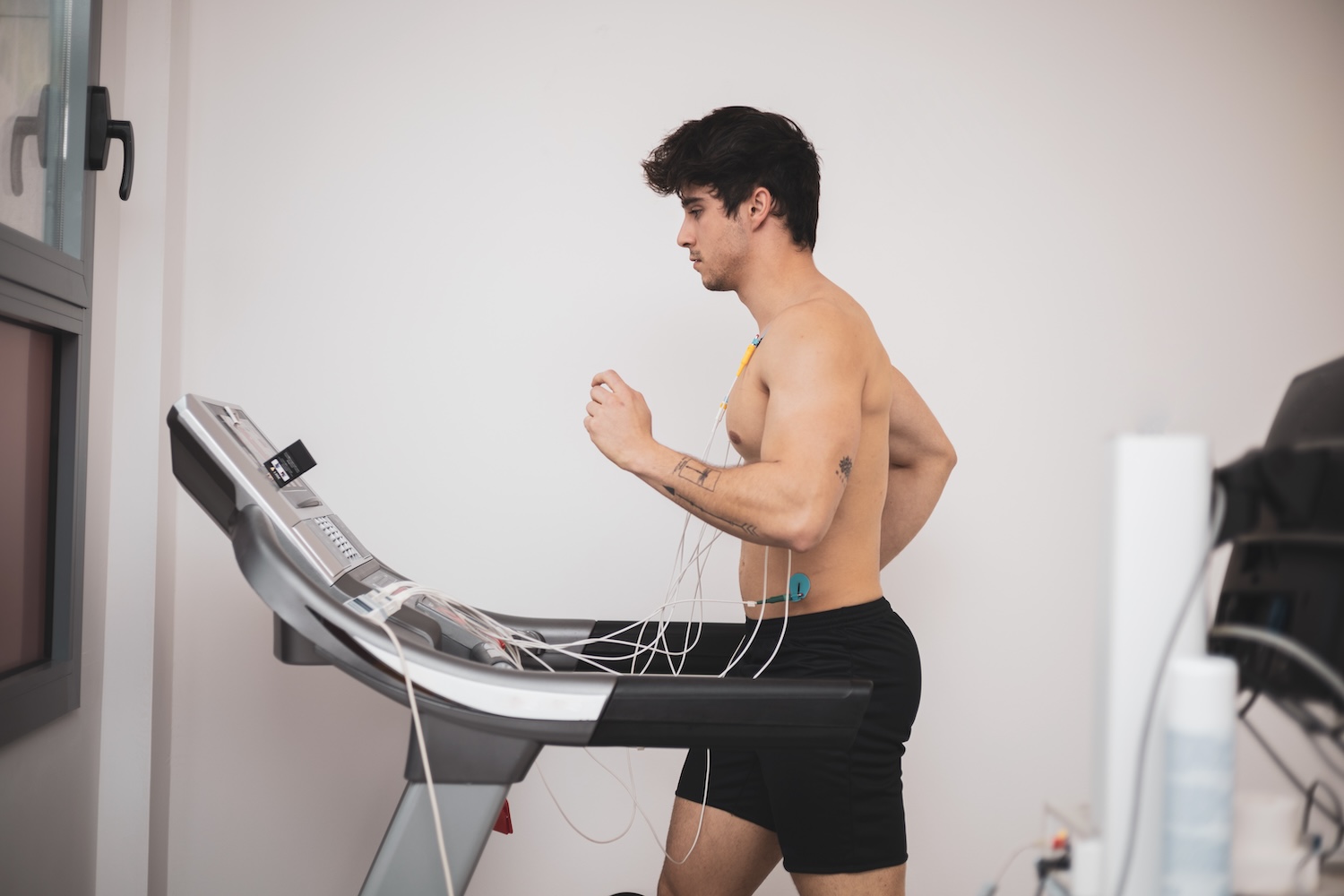 An exercise stress test is a very common test that is performed to learn:
How well your heart pumps blood.
Whether your heart is receiving an adequate blood supply.
How you perform on physical activity compared with other people your age and sex.
If your symptoms (chest discomfort, shortness of breath, dizziness) can be reproduced while performing physical activity.
These tests make it easier for healthcare providers to identify and evaluate certain heart issues, such as problems with your muscle or valves, adequate blood supply to your heart muscle, and electric stability of your heart at rest and during exercise.
Cardiac stress tests help healthcare professionals determine whether you need additional – often more invasive – testing to confirm a diagnosis or if treatment might lower your heart attack risk and make you feel better.
Detection of Cardiovascular Conditions
An exercise stress test screens for various cardiovascular and heart-related conditions. It provides valuable information about the functioning of your heart during physical activity.
Coronary Artery Disease (CAD)
Exercise-Induced Arrhythmias
One of the main purposes of the test is to screen for CAD, which occurs when the coronary arteries that supply blood to the heart muscle become narrowed or blocked by plaque buildup. The test can detect reduced blood flow to the heart during exercise, which is indicative of CAD.
It can screen for abnormal heart rhythms that may occur during physical activity, but not when resting. Some arrhythmias can be life-threatening, and the test can help identify them.
An exercise stress test assesses your exercise tolerance and aerobic fitness. It can reveal how your heart and lungs respond to increased physical activity.
Benefits of an Exercise Stress Test
An exercise stress test offers several benefits, both for individuals and healthcare professionals, as it provides valuable information about the heart's functioning during exercise. It can assist in the diagnosis and management of various cardiac conditions.
Early Detection
This test can detect heart problems at an earlier stage, allowing for earlier intervention and potentially better outcomes.
Motivation for Lifestyle Changes
The results of the test can motivate individuals to make positive lifestyle changes, such as exercise, diet, and smoking cessation, to improve their heart health.
Objective Data
It provides objective data on how the heart responds to stress, aiding healthcare professionals in making informed decisions for treatment.
Don't become a statistic.
Invest now in your future health and be fit for the long term.
How an Exercise Stress Test Works
Step 1: Preparation
To begin, your healthcare provider will take your vital signs, including your resting heart rate and blood pressure. They will attach electrodes to your chest and arms, which connect to the EKG machine.
Step 2: The Exercise Portion
Next, you will walk on a treadmill or pedal a stationary bicycle at an easy pace. Over time, the pace becomes more intense but still manageable.
Step 3: The End of the Test
The test ends after maintaining your target heart rate long enough to capture readings about heart function, usually about 10 to 15 minutes. Your target heart rate is higher than when at rest and based on your age and fitness level.
Your healthcare provider may end the test early if you experience severe symptoms or ask them to stop.
Reasons to Get an Exercise Stress Test
The specific reasons for getting an exercise stress test may vary based on individual medical history, symptoms, and risk factors. The decision to have this test is typically made by a healthcare provider after a thorough evaluation of your health and medical history.
Assessing Heart Health and Response to Exercise
A stress test can help determine the overall health and function of your heart, including its ability to pump blood efficiently. It can also measure how your heart responds to increased physical activity, which can be valuable in assessing your exercise tolerance and overall cardiovascular fitness.
Evaluating Chest Pain or Discomfort
If you experience chest pain, tightness, or discomfort, an exercise stress test can help determine if it is related to a heart issue, such as coronary artery disease (CAD).
Risk Assessment
A stress test can be used to assess your risk of future heart problems or events, especially if you have risk factors like high blood pressure, diabetes, or a family history of heart disease.
InvestMed offers thorough health packages designed to meet the individual needs of our patients.
You can choose between a risk-specific package or a comprehensive package to analyze your health and wellbeing. Each package includes a comprehensive 1 hour physical exam and 1 hour review of results with recommendations to achieve optimal health.
Package costs will vary based on individual diagnostic test recommendations. Financing options are available.
Risk-Specific Screening Packages
Mitigate your cancer risk with preventive screening.
Package starting at $3,999*
MRI
DNA testing – 84 genes for cancer
Mole mapping
Advanced blood work
CT scan
Virtual colonoscopy
Proactive testing can detect changes in your body that could become cancer.
*Package cost will vary based on individual diagnostic test recommendations. Financing options are available.
Knowing your risk for stroke can save your life.
MRA – Magnetic resonance angiography
DNA testing – 83 genes for heart conditions
Advanced blood work
Carotid doppler ultrasound
Echocardiogram
Detect your risk of stroke early, even before symptoms present themselves.
*Package cost will vary based on individual diagnostic test recommendations. Financing options are available.
Heart Disease Screening Package
Early screenings are essential for heart disease prevention.
Package starting at $3,999*
Coronary calcium score
DNA testing – 83 genes for heart conditions
Advanced blood work
Exercise stress test
Echocardiogram
CT coronary angiography
Screening for cardiovascular risk factors before you develop heart disease, can help you prevent it.
*Package cost will vary based on individual diagnostic test recommendations. Financing options are available.
Comprehensive Screening Packages
Comprehensive Screening Package
Get the right screening tests at the right time.
Packages from $5,999 - $11,999*
Whole body MRI
Coronary calcium score
DEXA scans
Microbiome gut testing
Genetic testing+
Heart health workup
Cancer risk review
Mole mapping
Screen for all material risks
Prevention is key to longevity, whether or not you are presenting symptoms or risk factors.
*Package cost will vary based on individual diagnostic test recommendations. Financing options are available.
Please contact us for a custom corporate package. Specialized corporate rates available.
Comprehensive, proactive health plans
Customized screening tests
Extensive medical risk assessments
Preventive approach to healthcare
Proactively manage executive wellness.
How long is an exercise stress test?
If you are undergoing a basic stress test, the exercise portion should typically last about 10 to 15 minutes.
Stress tests that include echocardiography, nuclear imaging, or an MRI are often longer and may require you to be in the stress lab for up to 3 hours.
How should I prepare for an exercise stress test?
To prepare for an exercise stress test, you should:
Not eat anything in the hours leading up to the test.
Avoid caffeine for 24 hours before testing.
Not smoke or use tobacco products.
Stop taking certain prescription medications the day of your test. Talk to your healthcare provider before stopping any medications
Who should not have an exercise stress test?
Exercise stress testing is not made for those with heart conditions that make stress testing unsafe. These include:
Aortic dissection.
Endocarditis, pericarditis, or myocarditis (heart muscle inflammation).
A recent heart attack.
Severe aortic stenosis (aortic valve narrowing).
Uncontrolled abnormal heart rhythm (arrhythmia).
Ongoing chest pain.
Is cardiac stress testing safe?
If there are no contraindications, exercise stress tests are safe. Very few people experience complications.
Trained healthcare providers are present during your test in the rare event that you have a complication. They assess your performance, data and symptoms throughout the tests and immediately provide emergency treatment if it is needed.
You also have the option of stopping the stress test at any time if you become anxious or uncomfortable.
What's important to know about exercise stress testing in women?
People designated female at birth (DFAB) tend to experience heart disease differently than designated male at birth (DMAB). This makes it challenging to detect early-stage heart disease.
In general, healthcare providers tailor their stress testing and method of imaging during stress testing based on your sex and age to obtain optimal results and minimize radiation and unclear test results.